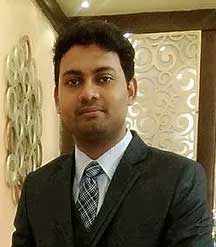 He has done Masters in Business Administration (MBA in Finance) from Mahatma Gandhi University. He is working in a company called Shiha Afia as a Digital Marketing head and business development manager.
Arsalaan Ghaus, a young, dynamic and fast learner guy currently working in UAE as a digital Marketing business manager. He is an ambitious and positive thinking guy. Originally from Kolkata, India he lives in UAE with family and is well-settled.
He had visited India few months back for one a short leave. Rather than wasting time, he decided to learn Digital Marketing. He was working on Shiha Afia( https://www.siha-afia.com/) website but he was lacking one thing and that was Digital Marketing knowledge.
He searched several Digital Marketing institutes in Kolkata and weighing pros and cons of all the centres which provides Digital Marketing course in Kolkata, he found Acesoftech Academy the best Digital Marketing institutes in Kolkata.
Since our minimum course duration is 3 months for Digital Marketing. But he had only one month time in his hand.
Since, he is a fast learner; he told us that if we give him 5-6 hours daily he can complete the course in one month.
We gave them time and our trainer taught him complete course in one month time. He was very happy and satisfied.
He went back to UAE and started working on the company website.  www.shiha-afia.com. He brought great changes in the website. Company owners are also very happy with his work. He got promoted as Digital Marketing business developer and also his salary hot hiked.
Our CEO, Umar Sir says about him, "Arsalaan is very few students who learnt so fast and he implemented each and everything in website. In spite of having time-crisis he learnt attentively and with dedication".
Certificates : Google, Facebook etc
After completing the Digital Marketing course, we provided certificate. Apart from that he also completed Google certificates and Facebook blue print certificate.
Check his complete profile here.