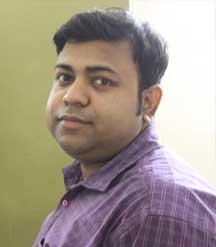 He search for MEAN stack training in Kolkata and found Acesoftech Academy the best institute for MEAN stack course. He completed the course from here and he also got placement.
Currently he is working at code Warrior technology as a MEAN stack team leader.
He told he was working on PHP, that was good because he would not had to put extra pressure for learning. But, he was feeling stagnant. He wanted to learn new technology.
He further told, "But I was not sure what to learn. I searched on internet and went to Acesoftech Academy and I got suggestion to go for MEAN stack course, because it is very popular technology".
He added, "Since I already knew JavaScritp and Jquery and did not feel difficulty in learning."
He got placement as a MEAN stack developer and currently working as MEAN stack team leader.
After learning his concern was also if he will get chance to work as MEAN stack developer in Kolkata. Since it's a new technology so there is less but solid career based technology.
I got placement help also from Acesoftech Academy. It was easy to crack the interview because I did projects there.
I did 3 projects, one in Agnular, second in Angular Node and exress and MondoDB as database. The project helped me to grasp in-depth of MEAN stack technology.
"Thanks to Acesoftech Academy for good suggestion and also good training. The training changed my career."– Sudipto Ghosh